Business Tax Problems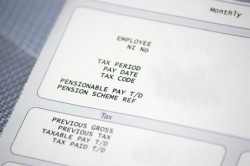 For large and small businesses alike, it's not uncommon for tax problems to fall by the wayside in the midst of the other mountain of responsibilities on your plate. But that doesn't mean ignoring your IRS tax problem will make it go away! When you need business tax help for a company anywhere in the greater Cleveland area, count on Taxation Solutions, Inc. We provide effective results and exceptional service, and we'll put our expertise to work to bring your company tax relief. Why struggle with business tax problems any longer? Call or e-mail us to resolve your tax problems and get on the road to financial well-being once again!
Because of snowballing fees, penalties, and interest, the simple truth is that IRS tax problems only get worse the longer you wait to deal with them. In time, they might get so bad that your business's very existence is threatened. Call in our professional expertise, and you can fight back with small business tax help and more from Taxation Solutions, Inc. We can assist all sorts of Cleveland-area businesses with:
Filing back taxes
IRS problem resolution
Tax settlement negotiation
Penalty abatement
Payroll tax problems
Audit representation
And more!
Are you launching a new business? To get you started off right, our tax resolution pros can help ensure you comply with all IRS rules and regulations. Need assistance with tax problems such as an outstanding tax debt and related penalties? Our team has you covered. We're fully licensed and insured, and we have over four decades of combined experience resolving IRS tax problems. If tax problems are holding your business back from success, we're here for you.
Payroll Tax Problems
Payroll tax penalties and problems are among the most common reasons companies need business tax help. If you find yourself in this position, Taxation Solutions, Inc. can help. Our team will assist you in dealing with your payroll tax penalty and bring your business tax relief. We'll address the specific reason for your payroll tax penalties, such as a bookkeeping error or employee misclassification, and take the most effective steps to make everything right. With our tax attorney and other tax resolution specialists on your side, your payroll tax problems don't stand a chance.
Learn more about how Taxation Solutions, Inc. provides large and small business tax help by calling us now! We'd be happy to give you a free estimate on the IRS tax problem help you need. From your initial free consultation until your case is fully resolved, we'll be there for you the whole way. You can trust Taxation Solutions, Inc. to get your company back on the right financial track. Contact us today to get started.
corporate tax
tax problems
small business tax
tax resolution